Case study
CLIENT: Hilton Hotels
LOCATION: Silverstone, United Kingdom
VALUE: N/A
COMPLETED: June 2022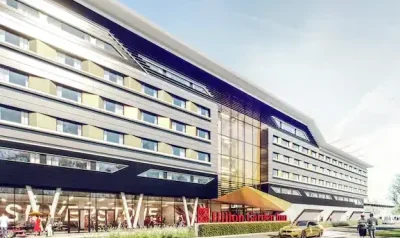 BACKGROUND
We are delighted and very proud to have completed this air conditioning installation in such an iconic location as Silverstone, the home of British Motorsport. This hotel is located on the Hamilton Straight on the Silverstone Racetrack and is a unique and prestigious location for Cross Refrigeration to have provided our air conditioning skills and services.
SOLUTION
With 206 bedrooms in the hotel, each room is air conditioned with a Toshiba VRF system, the rooms are controlled by local bedroom controllers and also have a patio door sensor to disable the units when the bedroom balconies are being used as viewing areas. This is an energy saving feature to prevent unnecessary energy consumption when the patio doors to the viewing balconies are open.
The entire system is centrally controlled with the latest Toshiba Black Pear technology, this is linked to a building management system for high level monitoring and control.
The elaborate and extensive public areas in the hotel are also heated/cooled by Toshiba VRF heat recovery systems, these systems provide conditioned air which is ducted into all spaces to provide the ultimate climate and comfort for the hotel guests.
Cross have also installed the Daikin VRV heat pump systems into the link bridge between Silverstone's Stadium and the Hilton Garden Hotel, the link bridge traverses the race track and allows guests and users to conveniently pass between the buildings in the comfort of an air conditioned space.