Case study

Derry Refrigerated Transport
Craigavon
Completed 2019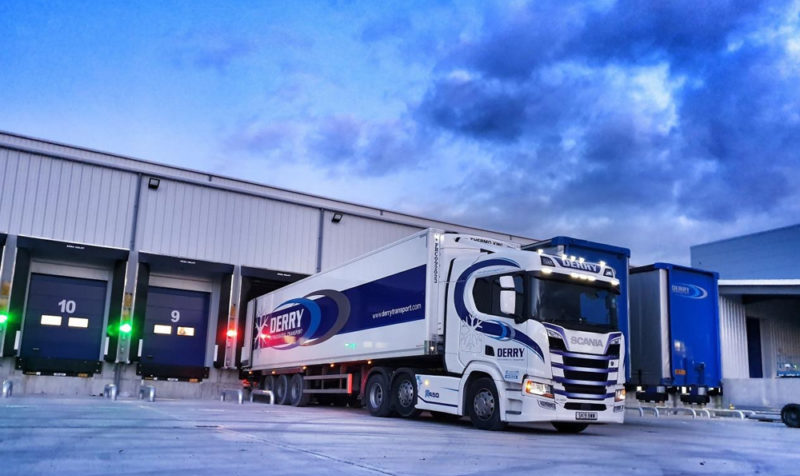 BACKGROUND
Derry Group is Irelands leading Chilled and Frozen food storage and distributor.
Derry Group Ireland specialises in the storage, order picking and distribution of chilled and frozen product throughout Ireland with depots in Armagh (NI), Dublin and Cork (Republic of Ireland).
In 2019 Cross Group were engaged by Derry Group to design, supply and install a 70,000 square foot chilled and frozen distribution centre in Craigavon on one of the country's main arterial routes; the M1. The New cold store was designed to facilitate 7000 pallets of storage space with 17 external loading bays to the refrigerated cross-dock area.
CHALLENGES
In a drive to reduce emissions and use environmentally friendly refrigerants, Cross were challenged to come up with a refrigeration design that not only fulfilled the requirements of the clients logistics warehouse, but to future proof the type of refrigerants used and make the system both extremely economical to run and green to the environment. We also had a goal to utilise as much of the rejected heat as possible within the system.
SOLUTION
After tabling the drawings of the proposed development with our in house design team, we decided that CO2 was the most efficient route to take on this chilled/frozen distribution centre, we also decided to recover the rejected heat from the CO2 pack and used it in the under floor frost protection system through a network of underfloor heating pipes.
We decided on an interlaced CO2 system between the chilled and cross dock areas which are serviced by multiple packs in order to prevent any down time in the event of mechanical failure; a form of duty standby effectively.
We are very proud of this installation and to have worked alongside Derry Refrigerated Transport who are a very progressive client; we look forward to continuing with the maintenance on this site for many years into the future.