Key Suppliers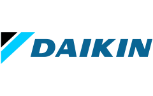 Daikin Airconditioning UK Ltd provides innovative, premium quality, indoor climate management solutions to meet the changing needs of our residential, commercial and industrial customers.
Daikin Airconditioning UK Ltd is a wholly owned subsidiary of Daikin Europe NV. The focus of our business is the sales and distribution of Daikin air conditioning products whilst fully utilising the advantage of our European Group Manufacturing Division. Over 90 years of precision and innovation has helped Daikin build a worldwide reputation for quality and technology.

Is the first European producer of metallic perforated ducts for the Pulsion and Diffusion of air in any kind of environment. SINTRA was formed in 1995, after 15 years of research and testing with the precise aim of developing the innovative MIX-IND technology for the PULSION of the environment air.
Yanmar Gas Heat Pump (GHP) air conditioning systems provide high efficiency and cost effective heating and cooling solutions for buildings using gas. Being mainly powered by gas, these GHP systems can give low running costs, reduced CO2 emissions and eliminate the need for expensive electricity supply upgrades that are often required by electrically powered heat pump systems.
They can also reduce seasonal overloading of electricity grids, create new opportunities for gas to be used for cooling and also help to stabilise the demand for gas and electricity over the year.
Mitsubishi Electric is a world-leading supplier of energy efficient air conditioning equipment that will cool, heat, ventilate and control your buildings. Decades of dedicated research enable us to provide you with an advanced range of products that offer complete design flexibility to provide the perfect internal environment.